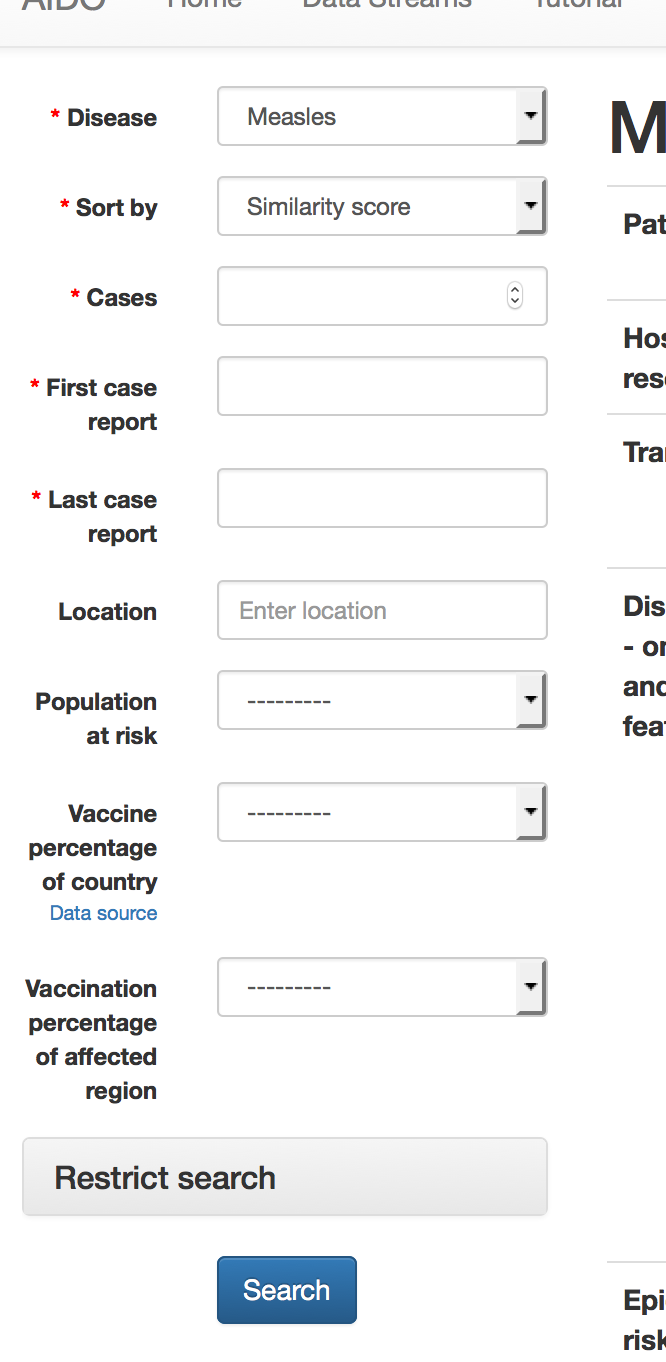 AIDO can rank outbreak records based on user input, allowing users to quickly identify known historical outbreaks that are similar to a current or hypothetical outbreak.
To access the contextual search capability,
Select Similarity score for the disease's Sort by dropdown box in the form to the left of the disease fact sheet.
Fill in as many of the fields as possible. Some of the parameters include a Data source link; these sources can be helpful if you are unsure what to enter for a parameter.
Click Search at the bottom of the form to bring up the outbreak records for the given disease, ranked from most similar to least similar.
Not dealing with a specific outbreak, but want to get a feel for what known historical outbreaks look like for a disease? Instead of sorting outbreaks by Similarity score, sort by Date or Distance from a location.
Select Date or Distance from a location in the disease's Sort by dropbown box.
Date doesn't require any further input; outbreaks will be sorted by their date, newest outbreaks first.
Distance from a location requires the user to provide a location from which to measure distance to each outbreak.
Users can also filter results. For example, if you are only interested in measles outbreaks that occurred in the U.S., you can restrict your search to only those outbreaks.
Select the appropriate Sort by option and fill in the necessary fields, as described above.
Expand the Restrict search section. Fill out any fields for which you want to restrict the search.