When a user submits the form to match an outbreak to their situation, we compute a score for each outbreak in our library. This score represents how similar, on a scale from 0 to 100, the outbreak is to the user's situation. This allows the user to understand their situation in the context of historical outbreaks.
Scores are generated using a simple weighted sum,

,
such that

and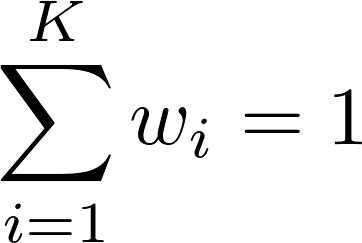 . These constraints ensure that

.
Here, s is the outbreak's similarity score, K is the number of properties considered, pi is property i, wi is the weight of property i, and m(pi) is the outbreak's match score of property i (i.e., how well the outbreak's value for property i matches the user's value, provided in the query form).
Note that while the equation above returns a score, s, between 0 and 1, we display scores as percentages (i.e., we display s · 100).
Selecting disease properties and tuning the property weights is done in several steps:
Analysts build an outbreak library for the disease. The library contains time series, location data, source references, and any notable factors that influenced the outbreak's progression. The size of the library will depend on a variety of factors (e.g., how pervasive the disease is, the quality and availability of the reported data, whether the disease requires mandatory reporting).
Properties that influence outbreak progression are determined by the analyst. Some examples of these properties include: location, total population at risk, strain, socioeconomic factors, and contamination source.
Property importance is ranked based on a sensitivity analysis. The ranking orders properties by how influential they are when distinguishing outbreaks.
Property weights are assigned from the rankings using the rank-sum method. For example, a weight of 0.25 assigned to the location property means that 25% of each outbreak's total score is determined by the proximity of the location in the user's query to the outbreak's location.
For more information on the weights various properties take on, including the maximum possible score for an outbreak, please view the "How was this outbreak scored?" table below each outbreak chart.